If you think professional workwear or business casual clothing is fussy and constantly in need of an iron, think again. It's possible to build a wardrobe comprised of stylish, comfortable, classic, casual business wear that's easy to maintain. Choose fabrics and styles that make creating outfits easy and save you time on ironing. If you do, you'll also find yourself enjoying travel a lot more as you'll have clothing that travels with you that are easy to pack and wear. Here are some wrinkle resistant fabrics to look for as you're building your fuss-free wardrobe. Most clothing is a blend...
---
• blazer • business • business travel • packing • travel • workwear
Tips on Packing for a Business Trip  Business travel is already fraught with important details, timelines and goals. Simplifying business travel can be as easy as reimaging your wardrobe, however. Traveling well starts with functional-yet-fashionable pieces that allow you to focus on your priorities. We recommend taking a minimized version of your existing wardrobe when you're on the road so you don't have to compromise your preferred aesthetic. Here are some of our best tips for women's travel clothing.  Versatile, neutral colors. With a mix of neutral colors like black, navy, grey and white, mixing and matching tops and bottoms...
---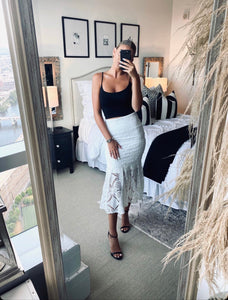 For us here at Citrine Grey, we believe that white is the unofficial color of the summer. As it begins to feel more and more like summer with all of this beautiful weather we are having, we are breaking out our most loved, classic Citrine Grey white and creme pieces like our Chloe suit and Blake skirt.      White outfits can be more difficult to create than a classic head-to-toe black uniform, but we are here to tell you that is no longer the case. According to fashion moguls over at Vogue, a classic way to style white this...
---
      With temperatures rising above 60 degrees, it's time to break out the skirts and dresses. At Citrine Grey, our best selling skirts, the Blake and the Marlowe are the most comfortable flattering classic pencil skirts you can own. We even guarantee it. Designed with a built in Tummy Control panel to support you all day, the four way stretch fabric feels like you are wearing your favorite yoga  pants.  Here are some ways we are wearing these skirts this season. Considering we have been working from home for quite some time now, we are always looking for...
---
       As we continue to work from home, the new normal is for businesses and employers to use Zoom, a cloud-based software used for meetings, webinars and conferences. Here are some tips on how to get dressed for your work from home Zoom calls. The big question for Zoom calls during this hiatus from going into the office is how dressed up should I get? The answer to that question is it's not necessary to dress quite as well as you usually do, try not to take it down more than one level from your normal office attire....